Neuroscience
With state-of-the-art facilities and a dedicated neuroscience inpatient unit, Atlantic Health System Neuroscience is the leading provider of neurological care in the Northern New Jersey region.
Overlook Medical Center – The Neuroscience Flagship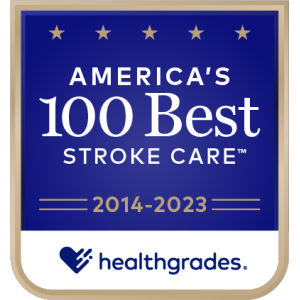 Overlook Medical Center's Atlantic Neuroscience Institute serves as the flagship of Atlantic Health System Neuroscience with good reason. Within New York and New Jersey, we're the only stroke program recognized by Healthgrades as one of America's 100 Best Hospitals for Stroke Care ten years in a row. Since 2017, Healthgrades has recognized Overlook Medical Center among the top five percent of hospitals in the U.S. for excellence in the Treatment of Stroke, Cranial Neurosurgery and Neurosciences more times than any other hospital in New Jersey or New York.
In addition, The Joint Commission has certified our spine surgery program and we were the first hospital in New Jersey to receive their Comprehensive Stroke Center designation.
Patients from Chilton Medical Center, Hackettstown Medical Center, Morristown Medical Center and Newton Medical Center are seamlessly connected to Overlook when advanced neuroscience care is necessary thanks to telestroke technology, helipads and ambulance transport, and an electronic health record system that allows physicians to share health records in real time.
Neuroscience Areas of Specialization
Stroke
As state-designated Comprehensive Stroke Centers, Morristown Medical Center and Overlook Medical Center anchor a regional network of more than a dozen Primary Stroke Center hospitals, providing expert care for the most complex cases. In addition, we use telestroke technology and RAPID stroke software, which allows our stroke neurology specialists and neurosurgeons to remotely diagnose patients and start life-saving treatment quickly.

Epilepsy
Designated a Level 4 epilepsy center by the National Association of Epilepsy Centers, Overlook Medical Center is home to neurosurgeons trained in the latest surgical interventions, such as responsive neurostimulation device (RNS) and vagus nerve stimulator (VNS) procedures. We're also the only hospital in New Jersey offering magnetoencephalography (MEG) and ROSA® Brain robotic-assisted stereo-electroencephalography (SEEG) – revolutionary technology that helps locate the source of seizure activity in the brain without invasive operations.

Brain Tumors
Overlook Medical Center's investment in the latest neuroimaging and diagnostic equipment helps ensure our experts have the most accurate information possible for brain tumor evaluation and procedure planning. This high-tech imaging is complemented with some of the safest and most advanced brain tumor treatments available, such as conformal radiation, immunotherapy, CyberKnife and minimally-invasive surgeries.

Parkinson's Disease & Movement Disorders
Atlantic Health System Neuroscience's Movement Disorders Program at Overlook Medical Center helps patients manage neurological movement disorders – conditions in the brain that affect the body's speed, fluency, quality and ease of mobility. Once properly diagnosed, most movement disorders have effective treatment options, including medications, Botulinum toxin or Botox injections, and deep brain stimulation (DBS) surgery.

Other Neuroscience Specialties
Diagnostics and Treatments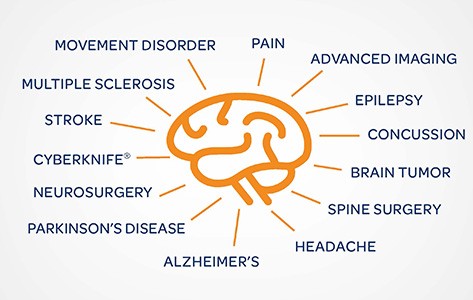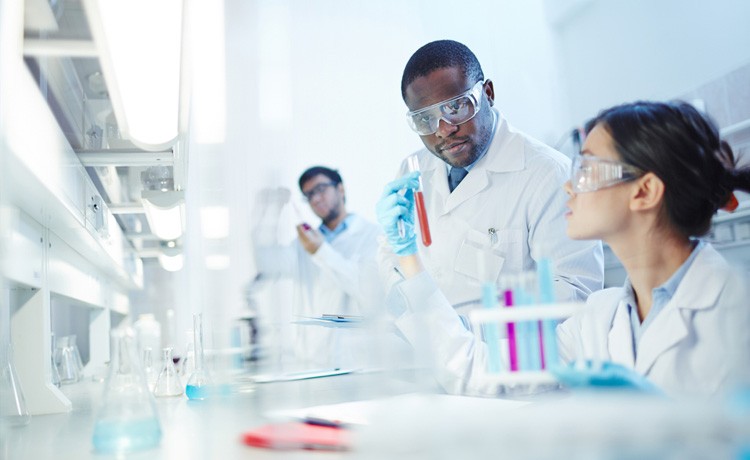 Research and Clinical Trials
Atlantic Health System Neuroscience participates in dozens of clinical trials each year, giving our patients access to the latest technology and medications sooner than available to the general public. Our neurological researchers frequently present their findings from these studies at key medical meetings around the globe.

Neuroscience Medical Team
Our physician team includes neurology specialists, neurosurgeons, pain management specialists and other experts highly-trained in the treatment of brain, spine and nervous system disorders.
Are You at Risk for Stroke?
Staying well requires that you not only understand the current status of your health, but also are aware of your chances of developing a chronic condition or disease in the future.

Take a short quiz now to assess your stroke risk.
Awards and Accreditations
Overlook Medical Center received the American Heart Association and American Stroke Association's Get With The Guidelines® Stroke Gold Plus Quality Achievement Award with Target: Stroke Elite Plus, Target: Stroke Advanced Therapy and Target: Diabetes Honor Rolls.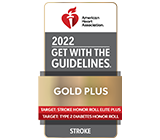 Chilton, Hackettstown, Morristown and Newton medical centers are recipients of the American Heart Association's Get With The Guidelines® Stroke Gold Plus Quality Achievement Award with Target: Stroke Elite Plus, and Target: Diabetes Honor Rolls.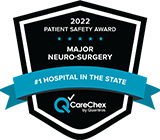 Chilton, Hackettstown, Morristown, Newton and Overlook medical centers are certified Primary Stroke Center by The Joint Commission.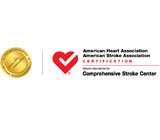 Overlook Medical Center has received the Disease-Specific Care Advanced Comprehensive Stroke Center Certification from The Joint Commission and the American Heart Association/American Stroke Association.
see all