Until a generation or two ago, Americans relied almost exclusively on family doctors – also known as general practitioners or primary care physicians – to provide their medical care.  Family doctors delivered babies, made house calls, performed annual check-ups, set broken bones, helped patients manage chronic illness, and even tended to patients in their last months of life.  By sharing their patients' lives with them, primary care physicians were able to help them stay healthy by modifying bad habits and taking family history into account.
Primary care medicine - medical care provided by your family physician, your pediatrician, or your gynecology specialist and their nurses and physician's assistants -- medical experts who see you on a regular basis for wellness check-ups and get to know you over a period of several years or even decades. Most primary care physicians also treat minor medical problems like colds and the flu and help patients with chronic, but manageable conditions, such as diabetes and high blood pressure. They are often the first to notice signs of a more serious illness or condition because they provide continuity of care by seeing patients on a regular basis for many years and noting changes in the patient's health status from one year to the next. 
Three types of primary care physicians:
Family medicine physician or general practitioner - specializes in preventive medicine and the care of patients of both genders, in all age groups, with acute illnesses, such as coughs and colds, as well as chronic conditions, such as hypertension and diabetes. They are often board certified.
Internal medicine specialist - diagnoses and treats disease in adults, though he or she does not perform surgery. Internal medicine specialists may have a subspecialty which focuses on a specific part of the body, such as the heart or lungs; or a specific disease, like diabetes or arthritis; or a particular age group, such as adolescents or the elderly.
Pediatrician - cares for and treats children from birth through the teens. They are often trained in subspecialties, such as pediatric cardiology, gastroenterology, perinatal medicine and pediatric surgery.
A network of relationships - At Atlantic Health System, primary care physicians are key to providing you with the best possible medical care. Our web of surgeons and experts in cardiology, neurology, orthopedics, oncology and other pediatric specialties – know one another and understand how each specialist works. That comprehensive network enables Atlantic Health System primary care physicians to refer patients who need specialized care to physicians who match them in temperament and values too, enabling patients to really work in partnership with their health care providers.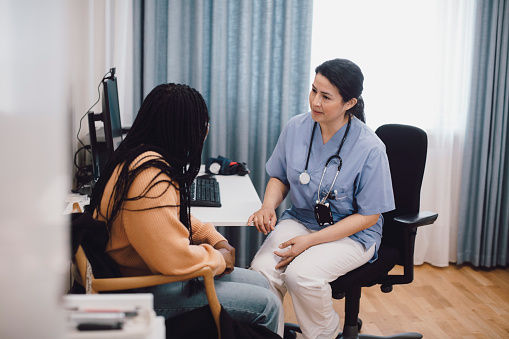 Home Care
If you and your physician feel that you would benefit from home care – whether to prevent or postpone a hospitalization, or to help with recovery after a hospital stay – our team of visiting nurses and rehabilitation experts can develop an individualized plan of care to meet your needs.