Sustained success: Atlantic Health System and its medical centers again awarded for environmental sustainability
July 22, 2022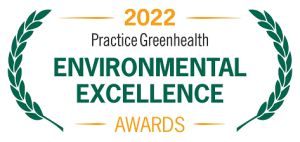 Atlantic Health System one of only 10 systems recognized nationwide by Practice Greenhealth
MORRISTOWN, NJ – JULY 2022 – Atlantic Health System was one of only 10 health systems in the United States to recently receive Practice Greenhealth's prestigious System for Change award, recognizing the health care organization's accomplishments in environmental sustainability. Each of Atlantic Health System's medical centers also received Practice Greenhealth's Environmental Excellence award.
Practice Greenhealth is the nation's leading organization dedicated to environmental sustainability in health care, highlighting success in making health care operations greener, even amid the ongoing COVID-19 pandemic.
Atlantic Health System has been recognized by Practice Greenhealth consistently for several years, for a myriad of innovative solutions designed to lower the New Jersey-based health care organization's impact on the environment.
"We have taken an organization-wide approach that the impact health care takes on the environment cannot be an afterthought. Sustainability is central to how we deliver care, not only because it helps to make our communities healthier, but also improves how we operate," said Carolyn Brown-Dancy, director of environmental health and safety-sustainability for Atlantic Health System.
One standout example of how the organization has lowered its environmental footprint occurred in 2021, when Atlantic Health System began the integration of a "co-gen" power plant at Morristown Medical Center.
As with the similar plant previously installed at its sister hospital, Overlook Medical Center, co-generation power operates by using natural gas to power a turbine that generates electricity for the hospital. The by-product of the turbine is heat, which is then converted to steam, which is used by the hospital's boilers for heating and hot water throughout the facility. In the winter, when demand is lower, the plant can meet nearly all of the hospital's electricity needs, spanning 1.4 million square feet across 30 acres. In the summer, when heating is not required, the boilers can continue creating hot water for sterilization needs. Working in tandem with the hospital's emergency generators, the gas-fired plant also offers the added protection against potential electrical outages from public energy.
Other recent examples of Atlantic Health System's accomplishments in sustainability in 2021 include:
The organization began work to install solar panels at each of its medical centers, as well as its Rockaway Pavilion, that will generate a portion of each facility's electricity or power a solar thermal hot water heating system
Distributing more than 10,000 tree saplings to Atlantic Health System team members, and donating more than 1,500 tree saplings to Morris Township in order to replace trees that were downed and damaged in severe storms
In parallel with the state of New Jersey's ban on single-use plastic bags, Atlantic Health distributed more than 26,000 reusable grocery bags to team members and in turn, collected more than 200,000 plastic bags for recycling
In addition to the System for Change and Excellence Awards, Atlantic Health System's accolades from Practice Greenhealth also include:
The Greenhealth Emerald Award recognizes outstanding hospitals from within the Partner for Change applicants. This competitive award recognizes the top 20 percent of applicants and is focused on advanced sustainability programs and exemplary scores in a range of categories. This year Atlantic Health System's Chilton Medical Center, Morristown Medical Center and Overlook Medical Center received this award.
The Greenhealth Partner for Change Award recognizes superior performance in environmental sustainability, covering a range of different sustainability programs and activities. Winners have also made substantive progress on mercury elimination. This year, Atlantic Health System's Hackettstown Medical Center and Newton Medical Center received this award.
The Greening the OR Recognition Award honors facilities that have made substantial progress in reducing the impact of the surgical environment. This award was achieved by Atlantic Health System's Morristown Medical Center and Overlook Medical Center.
In addition, Atlantic Health System's Morristown Medical Center Ambulatory Surgery Center achieved two Practice Greenhealth awards; the Making Medicine Mercury Free Award recognizes hospitals that have virtually eliminated mercury from their facilities and have made a commitment to continue to be "mercury free"; the Partner Recognition Award recognizes facilities that have a commitment to environmental improvements and have achieved progress in several areas of the organization.
"In a shifting health care landscape, a focus on sustainability can help build resilience while better protecting the health of patients and the community," said Gary Cohen, Practice Greenhealth founder. Atlantic Health System demonstrates the kind of leadership, innovation, and performance that can drive the entire health sector toward more environmentally responsible practices."
Practice Greenhealth is the leading membership and networking organization for sustainable health care, delivering environmental solutions to more than 1,400 U.S. hospitals and health systems. Learn more at practicegreenhealth.org. 
About Atlantic Health System

Atlantic Health System is at the forefront of medicine, setting standards for quality health care in New Jersey, Pennsylvania and the New York metropolitan area. Powered by a workforce of more than 18,000 team members and 4,800 affiliated physicians dedicated to building healthier communities, Atlantic Health System serves more than half of the state of New Jersey including 12 counties and 5.5 million people. The not-for-profit system offers more than 400 sites of care, including its seven hospitals: Morristown Medical Center in Morristown, NJ, Overlook Medical Center in Summit, NJ, Newton Medical Center in Newton, NJ, Chilton Medical Center in Pompton Plains, NJ, Hackettstown Medical Center in Hackettstown, NJ, Goryeb Children's Hospital in Morristown, NJ, Atlantic Rehabilitation Institute in Madison, NJ and through its partnership with CentraState Healthcare System in Freehold, NJ.
Atlantic Medical Group, comprised of 1,000 physicians and advanced practice providers, represents one of the largest multi-specialty practices in New Jersey and joins Atlantic Accountable Care Organization and Optimus Healthcare Partners as part of Atlantic Alliance, a Clinically Integrated Network of more than 2,500 health care providers throughout northern and central NJ.
Atlantic Health System provides care for the full continuum of health care needs through 23 urgent care centers, Atlantic Visiting Nurse and Atlantic Anywhere Virtual Visits. Facilitating the connection between these services on both land and air is the transportation fleet of Atlantic Mobile Health.
Atlantic Health System leads the Healthcare Transformation Consortium, a partnership of six regional hospitals and health systems dedicated to improving access and affordability and is a founding member of the PIER Consortium – Partners in Innovation, Education, and Research – a streamlined clinical trial system that will expand access to groundbreaking research across five health systems in the region.
Atlantic Health System has a medical school affiliation with Thomas Jefferson University and is home to the regional campus of the Sidney Kimmel Medical College at Morristown and Overlook Medical Centers and is the official health care partner of the New York Jets.