Atlantic Health System Earns Most Wired Recognition
October 6, 2020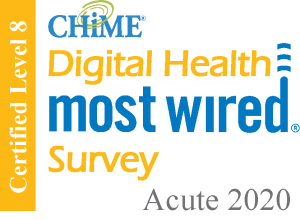 MORRISTOWN, NJ – OCTOBER 6, 2020 – Adding to its reputation of clinical excellence, Atlantic Health System today received recognition for its use of innovation and technology in care delivery as it was named a certified level 8 organization by CHIME Digital Health Most Wired for 2020. As a level 8 organization, Atlantic Health System was recognized for applying core and advanced technologies into its clinical and business programs to improve health and care in the communities it serves.
"Atlantic Health System is committed to building healthier communities, and increasingly in health care, that building is done by leveraging technological innovation," said Sunil Dadlani, Vice President, Chief Information Officer, Atlantic Health System. "Through our use of the latest advancements in technology, our team members have been able to provide the highest quality care to the communities we serve during this unprecedented time."
The College of Healthcare Information Management Executives (CHIME) is a global organization serving information executives from across the health care continuum. This is the third year that CHIME has conducted the survey and overseen the program. In each successive year, CHIME has expanded the survey to capture more types of organizations that serve patients across the continuum of care. CHIME also continues to promote the program internationally to provide a global overview of digital health advancements.
As in past years, CHIME will further recognize Atlantic Health System in its industry trends report, which is based on Digital Health Most Wired responses from U.S. participants. The 2020 National Trends Report is scheduled to be released in November during CHIME20 Digital.
Learn more about the CHIME Digital Health Most Wired program >

About Atlantic Health System

Atlantic Health System is at the forefront of medicine, setting standards for quality health care in New Jersey, Pennsylvania and the New York metropolitan area. Powered by a workforce of almost 17,000 team members and 4,800 affiliated physicians dedicated to building healthier communities, Atlantic Health System serves more than half of the state of New Jersey including 11 counties and 4.9 million people. The system offers more than 400 sites of care, including seven hospitals: Morristown Medical Center in Morristown, NJ, Overlook Medical Center in Summit, NJ, Newton Medical Center in Newton NJ, Chilton Medical Center in Pompton Plains, NJ, Hackettstown Medical Center in Hackettstown, NJ, Goryeb Children's Hospital in Morristown, NJ, and Atlantic Rehabilitation Institute in Madison, NJ.
Atlantic Medical Group, comprised of 1,000 physicians and advanced practice providers, represents one of the largest multi-specialty practices in New Jersey and joins Atlantic Accountable Care Organization and Optimus Healthcare Partners as part of Atlantic Alliance, a Clinically Integrated Network of more than 2,500 health care providers throughout northern and central NJ.
Atlantic Health System provides care for the full continuum of health care needs through 16 urgent care centers, Atlantic Visiting Nurse and Atlantic Anywhere's Virtual Visits. Facilitating the connection between these services on both land and air is the transportation fleet of Atlantic Mobile Health.
Atlantic Health System leads the Healthcare Transformation Consortium, a partnership of seven regional hospitals and health systems dedicated to improving access and affordability and is a founding member of the PIER Consortium – Partners in Innovation, Education, and Research – a streamlined clinical trial system that will expand access to groundbreaking research across seven health systems in New Jersey.
Atlantic Health System has a medical school affiliation with Thomas Jefferson University and is home to the regional campus of the Sidney Kimmel Medical College at Morristown and Overlook Medical Centers and is the official health care partner of the New York Jets.