Frequently Asked Questions
Atlantic Health System's Healthy Aging Program provides answers to commonly asked questions about Medicare coverage, rehabilitation and respite care.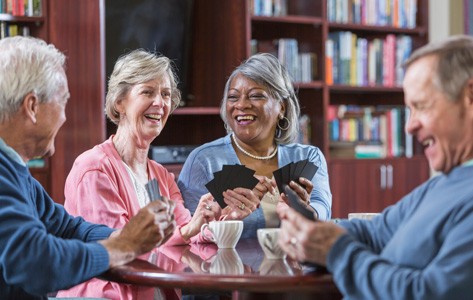 Are Medicare and Medicaid the same?
No, they are two different types of insurances.
What is Medicare?
Medicare is a joint federal-state funded government health insurance program for people age 65 or older, as well as many people living with disabilities. 
Where can caregivers get more information regarding Medicare?
The United States Department of Health and Human Services: 1-800-MEDICARE
The State Health Insurance Assistance Program of Union County Office at SAGE Eldercare   : 908-273-6999
SHIP provides free assistance to New Jersey Medicare beneficiaries who have questions about their health insurance. Volunteer counselors help answer questions about benefits and claims, supplement policies and long-term care insurance.
1-800-792-8820

What does Medicare Part A cover?
Medicare Part A covers hospital care, skilled nursing and sub-acute inpatient care, home health care and hospice care. 
Does Medicare cover placement at a skilled nursing facility or subacute care?
Yes, if the person meets the clinical criteria requiring skilled services and had three midnight hospital stays prior to admission. The maximum benefit period is 100 days. The first 20 days are covered at 100 percent; days 21 through 100 require a daily co-pay. (Most Medi-Gap polices will cover the co-pay.) Patients must be pre-approved for coverage after 19 days. 
How do I find more information about Medicare?
For general Medicare information about health plans, you can contact 1-800-MEDICARE any time of the day or night, any day of the week. They can tell you about the Traditional Medicare Plan and provide up-to-date information regarding the health plans available in your area. 
What is Medicaid?
Health insurance provided by the federal-state government to low income parents, children and people who are blind or disabled. The program pays for hospital services, doctor visits, prescriptions, nursing home care and other health care needs. 
How do I apply for Medicaid?
If you are a New Jersey resident, you must apply for Medicaid in New Jersey through your county Board of Social Services. 
Essex County residents:
Essex County Department of Citizen Services
Division of Welfare
18 Rector Street - 9th Floor
Newark, NJ 07102
973-733-3000
Morris County residents:
Office of Temporary Assistance
Main Office
PO Box 900
340 West Hanover Avenue
Morris Township, NJ
973-326-7800

8 South Morris Street
Dover, NJ
973-989-6015
Passaic County residents:
Passaic County Board of Social Services
80 Hamilton Street
Paterson, NJ 07505-2060
973-881-0100

Somerset County residents:
Somerset County Board of Social Services
73 East High Street
Somerville, NJ
908-526-8800
610 Franklin Boulevard
Somerset, NJ
732-846-6499
391-D Somerset Street
North Plainfield, NJ
908-561-9400
For Adult Medicaid programs in Somerset County please contact the Somerset Office. It is recommended that you call first for an appointment.
Sussex County residents:
Sussex County Division of Social Services
83 Spring Street-STE 203
PO Box 218
Newton, NJ  07860
973-383-3600
Union County residents:

Union County Division of Social Services
342 Westminster Avenue
Elizabeth, NJ
908-965-2700
Warren County residents:
Warren County Division of Temporary Assistance and Social Services
Court House Annex
501 Second Street
Belvidere, NJ  07823
908-475-6301 
What is the difference between subacute rehabilitation and acute rehabilitation?
Acute rehabilitation is an intensive inpatient program for people who have experienced some major injury, disorder or illness. Patients usually receive three hours of therapy each day, six days a week.
Subacute rehabilitation, flexible care for patients at different stages of the rehabilitation process, is an ideal option for individuals either beginning or continuing their rehabilitation treatment. 
What is respite care?
The Statewide Respite Care Program provides respite care services to relieve their unpaid caregivers of stress arising from the responsibility of providing daily care. Services include home health aides, medical or social adult day care, private duty nursing, or a short-term stay in a skilled nursing facility. To learn more about the program's eligibility requirements, and to reach the Statewide Respite Care Program provider in your county, contact the New Jersey Aging & Disability Resource Connection (ADRC), or call the Statewide Respite Care Program at 1-877-222-3737.