President and Chief Executive Officer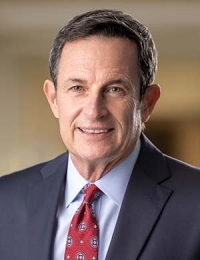 Brian Gragnolati is President & CEO of Atlantic Health System. He is also former Chairman of the Board of Trustees of the American Hospital Association (AHA), dedicated to leading, representing and serving hospitals and health systems in their work to advance the health of individuals and communities.
A nationally respected voice in health care, Brian is a frequent speaker at events such as the Aspen Ideas Health Conference, SXSW (South by Southwest) and the International Hospital Federation's World Hospital Congress. He regularly appears on CNBC, MSNBC and Bloomberg Radio, sharing his experience and insight on the nation's most pressing health care concerns. He was honored by Modern Healthcare as one of the 100 Most Influential People in Healthcare and selected by Governor Phil Murphy for both the Office of the Governor's COVID-19 Restart & Recovery Advisory Council and Professional Advisory Committee.

With $3.3 billion in revenue and 18,000 team members, Atlantic Health System serves more than half the state of New Jersey, including 11 counties and a region of 4.9 million people. The system cares for patients at more than 400 sites of care, including Chilton Medical Center in Pompton Plains, Goryeb Children's Hospital and Morristown Medical Center in Morristown, Hackettstown Medical Center in Hackettstown, Overlook Medical Center in Summit, Newton Medical Center in Newton, Atlantic Rehabilitation Institute, Atlantic Visiting Nurse, Atlantic Ambulance Corporation and Atlantic Medical Group, which employs over 1,000 community-based physicians.
Prior to his tenure at Atlantic Health System, Brian served as Senior Vice President, Community Division of Johns Hopkins Medicine and President and CEO of Suburban Hospital. He previously held executive positions at WellSpan Health, the Medical Center Hospital of Vermont and Baystate Medical Center in Springfield, MA.
Brian holds a bachelor's degree in Health Systems Analysis from the University of Connecticut, an MBA from Western New England College and an Executive Leadership Certificate from the JFK School at Harvard University. He is a member of the Boards of Directors of Lakeland Bancorp, Inc. (NASDAQ:LBAI) and Lakeland Bank, which supports the community with an extensive branch network and commercial leading centers throughout New Jersey and Highland Mills, New York. He and his wife, Donna, live in Madison, New Jersey.