Five Reasons to Have a Primary Care Doctor
September 8, 2023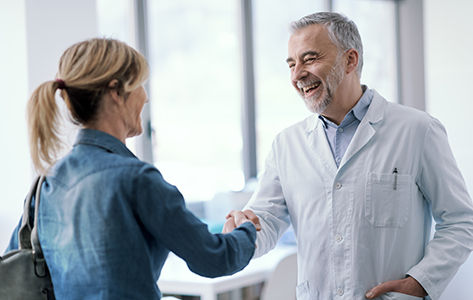 When you're feeling good, it can be hard to see the value of visiting your primary care doctor. But that's exactly when — and why — you should.  
"In this complex health care world, it's important to have a doctor you know and trust, someone you guide a relationship with over time" says James Kostek, DO, a primary care physician with Atlantic Health System. "Your primary care doctor is the captain of your health care team, giving context to your health concerns. And, when a health crisis hits, we catch problems early when they're most treatable."  
Studies show that annual wellness visits are the key to health and longevity, and people who regularly see their primary care doctor are generally healthier than those who don't. Here's why a primary care physician can be your partner in achieving a healthier life:

1. Your Medical History All in One Place
Primary care is your medical home for physical and mental well-being, and the first place you turn when you're sick. Your doctor will get to know your lifestyle and health goals. They will maintains your health record with family history, preventive screenings, labs and imaging, vaccinations, and clinical notes from your visits. This record travels with you in MyChart as a useful tool when searching for trends or underlying health issues.
2. Knowing Your Numbers
Interpreting lab tests and screenings isn't always easy. Your primary care physician helps you understand important markers that can detect health problems and manage chronic conditions effectively. Some of the numbers you and your doctor should be tracking include blood sugar (glucose), blood pressure, cholesterol, and body weight or body mass index (BMI). 
3. Promoting Good Health
Annual wellness visits are a critical part of a preventive healthcare. Your doctor will guide you on lifestyle changes, nutrition, exercise and preventive measures to maintain good health. Each year, your primary care doctor talks with you about recommended bloodwork, cancer screenings and vaccines that help avoid potential health problems — making sure you understand your results and helping you set goals that can delay — and even prevent — disease.
4. Managing Chronic Illnesses
According to the Centers for Disease Control and Prevention, six in 10 Americans are living with at least one chronic health condition, like heart disease and stroke, high blood pressure, asthma, diabetes, and/or cancer. If you are among them, you know the importance of having a primary care doctor. They educate you about your issues, monitor disease progression, advise on medications, manage your care team, and offer strategies to minimize the effects of your illness. 
5. Access to Specialists
Having a relationship with your primary care doctor means when it comes time to see a specialist, your doctor can provide the appropriate referrals. They make sure the specialist has access to your complete medical record, so your visit is productive. This way, your medical needs are well managed so you can make informed decisions about your health. 
Be Proactive About Your Health
Stay up to date with your annual wellness exams and screenings to prevent and detect more serious issues.
Related Articles
Preventive care guidelines change. That's why we created an interactive health tool that makes it easy to know what preventive care you need and when. Get your personalized checklist today.
When it comes to hearts, no one knows more about how to keep them healthy than the specialists who treat them. Explore the everyday ways Atlantic Health System cardiologists are improving their own heart health – and how you can too.

Making the most of your primary care visit can take a little preparation. The goal is to keep your doctor current with your health concerns and medical history so they can guide you to make informed health care decisions. Here's how to make sure your visit is personal and productive.

The first step to a healthier heart is understanding your risk for heart disease. Answer a few questions about your heart health and history to get your individual results.