Fall Harvest Salad with Roasted Sweet Potatoes
November 19, 2023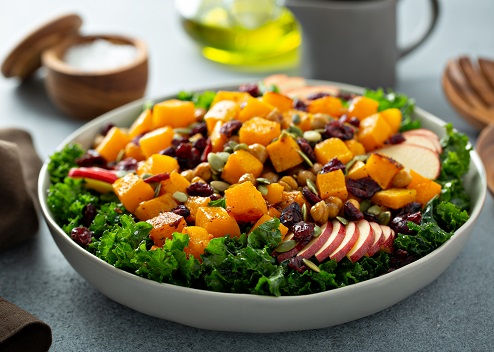 If you're wondering whether a salad belongs on the Thanksgiving table, registered dietitian and nutritionist Kailey Napolitano says, why not?

Fresh, colorful produce is at its peak this time of year and a hearty salad is a great way to add a burst of color to the meal. Packed with six grams of fiber and five grams of protein, this side dish may even take center stage on some plates to balance out the browns of stuffings, gravies, potatoes and turkey.
Serves: 6
Prep time: 20 minutes
Cook Time: 30 minutes
Total Time: 50 minutes
Ingredients - Roasted Sweet Potatoes
1 1/2 lbs. sweet potatoes, (2 medium or 3 smaller sweet potatoes)
1 Tbsp olive oil
1/2 Tbsp maple syrup
1/2 tsp sea salt
1/4 tsp black pepper
Salad
1 bunch kale, (10 cups chopped)
1 apple, thinly sliced
1/2 cup pecans, lightly toasted if desired
1/2 cup dried cranberries, or pomegranate seeds
1/2 cup crumbled goat cheese or feta
Ingredients - Dressing
3 Tbsp apple cider vinegar
1 Tbsp maple syrup
1 Tbsp Dijon mustard
1 garlic clove, finely minced or pressed
1/3 cup extra virgin olive oil
1/2 tsp fine sea salt
1/8 tsp black pepper, freshly ground
Instructions
Preheat oven to 425˚F. Line a large baking sheet with parchment paper. Toast pecans on a dry skillet over medium heat, tossing frequently for a few minutes until golden and fragrant then transfer to a plate to cool.
Dice sweet potatoes into 1/2" thick pieces and transfer them to a mixing bowl. Drizzle with 1 Tbsp olive oil, 1/2 Tbsp maple syrup, 1/2 tsp sea salt, and 1/4 tsp black pepper and toss to combine.
Spread sweet potatoes onto the prepared baking sheet. Bake for 30 minutes at 425 ˚F, flipping the sweet potatoes after 20 minutes to promote even roasting. Remove from the oven and let cool.
In a small bowl or mason jar, combine all ingredients for the salad dressing in the order listed and thoroughly whisk together until well combined.
Strip the kale leaves and discard the stems. Rinse and spin dry leaves then finely chop them into thin strips and transfer to a large mixing bowl. Drizzle with 3/4 of the dressing. Toss for a few minutes with two forks until kale is slightly softened, evenly coated in dressing, and reduced by about 1/4 in volume. Let salad rest for 15 minutes while you add the remaining ingredients.
Scatter roasted and cooled sweet potatoes over the kale then sprinkle on remaining toppings: sliced apple, toasted and cooled pecans, dried cranberries, and crumbled goat cheese. Drizzle the top with the remaining 1/4 of the dressing or add to taste then enjoy.
Nutritional info per serving

Calories: 375
Fat: 23 grams
Carbohydrates: 41 grams 
Fiber: 6 grams
Protein: 5 grams