New York Jets Partnership
Atlantic Health System is proud to have a multi-year partnership agreement with the New York Jets. Not only are we the "Official Health Care Partner of the NY Jets," we are also the naming partner of the team's corporate headquarters and training facility – the Atlantic Health Jets Training Center – a state-of-the-art complex located in Florham Park, NJ. 
Jets First Round Draft Picks Bring Smiles to Kids at Goryeb Children's Hospital
The New York Jets' first round picks, Ahmad Gardner, Jermaine Johnson II and Garrett Wilson, brought smiles and lots of laughs to our kids, families and team members during their recent virtual visit.

Atlantic Health System and NY Jets Fight Pediatric Cancer
The New York Jets and Atlantic Health System are continuing their fight against pediatric cancer as part of the NFL and American Cancer Society's "Crucial Catch: Intercept Cancer" campaign.
Prior to kickoff at the Jets October 1 game, four children who are undergoing or have completed treatment at the Valerie Center at Goryeb Children's Hospital, part of Atlantic Health System, were recognized as virtual honorary captains. Jets Defensive Back and Captain, Matthias Farley, surprised Andrew Carasquillo, Eli Diringer, Sammy Kyzer and Aidan O'Neil with this honor during a virtual visit on September 25. Next season the Jets will also host Andrew, Eli, Sammy and Aidan in person as honorary captains for a game at MetLife Stadium.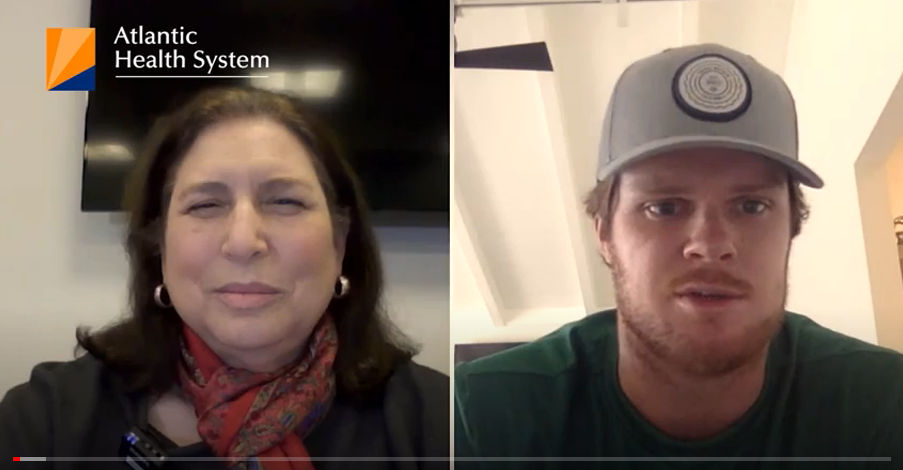 Team Leaders Discuss COVID-19
New York Jets Quarterback Sam Darnold turned to Chief Medical and Academic Officer for Atlantic Health System, Jan Schwarz-Miller, MD to separate fact from fiction when it comes to #COVID19.These two leaders teamed up to discuss what we all can do to stay safe and the importance not delaying medical care. #CaringTogether

Mekhi Becton Visits Goryeb, Virtually
Since an in person visit was not possible,  Jets 2020 first round draft pick - Mekhi Becton - was still able to take a virtual tour via Facebook of Goryeb Children's Hospital. It's a wonderful tradition that COVID-19 could not interrupt.   
As the hospital's team traveled from room to room and unit to unit, Mekhi was introduced to team members and children.  The uplifting conversations, warm sentiments for healing, smiles and laughter were the same even though miles apart.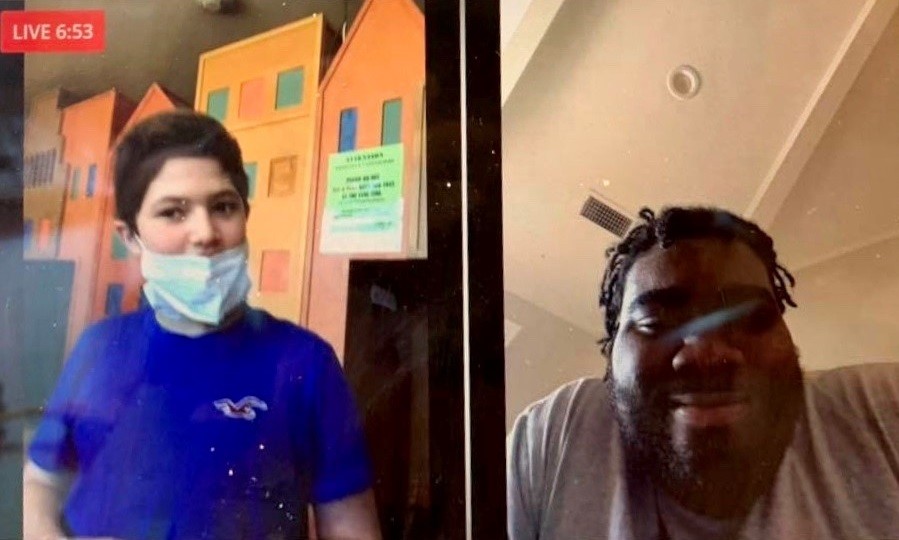 Sam Darnold Selects Atlantic Health System's Goryeb Children's Hospital for NFL's #MyCauseMyCleats Campaign
Darnold - who joined hundreds of players across the NFL in wearing custom cleats representing charitable causes that are important to them – wore cleats filled with words of encouragement and inspiration from kids at Goryeb Children's Hospital during their win against the Miami Dolphins on Sunday, December 8. Darnold chose Goryeb Children's Hospital as it has been a special place for him since joining the Jets.
"Goryeb Children's Hospital was one of the first stops I made after being drafted and I'm proud to support these kids any chance I can," said Darnold. "I've made some incredible memories and connections with the children and their families that I've been fortunate enough to meet, so having their words of inspiration with me during the game is truly special."
11-Year-Old Cancer Survivor Receives Once-In-A-Lifetime Experience with New York Jets
When Ethan Geller of Mendham, NJ had a brain tumor removed and was diagnosed with medulla blastoma (brain cancer) at the age of 7, his parents stayed positive during this difficult journey.
"There is an inner toughness to him, this kid will survive anything," said his mother, Lisa.
Thanks to the cancer team at Atlantic Health System's Goryeb Children's Hospital, Ethan is now a healthy 11-year-old boy who is cancer-free.
With his family by his side, the New York Jets and Atlantic Health System provided Ethan – a dedicated Jets fan – with a memorable on-field experience when the Jets took on the Dallas Cowboys in October. Ethan served as one of the honorary captains for the coin toss prior to kickoff and had the opportunity to meet not only QB Sam Darnold, but his favorite player and Jets Legend, Joe Namath.
A Year After Heart Attack, New York Jets Fan Stands Heartbeats Away from Coin Toss Against New England Patriots
A little over a year later after Jay Ziegler suffered a massive heart attack, he found himself on the sidelines during pre-game warm ups when the New York Jets faced off against the New England Patriots on Monday Night football. As a lifelong Jets fan, Jay took this moment to not only revel in the fact he was serving as an honorary captain for the coin toss prior to kickoff, but to reflect on how far he's come since his cardiac event.

"I was under the care of extraordinary people. I'm feeling as good now as I have ever felt; with the opportunity for a full and fruitful life," said Jay.
"Tonight is a celebration of what these people achieved for me – I'm very grateful."
Atlantic Health System is the title sponsor for the Jets Women's Organization – a group that works with charities and is dedicated to volunteering in the tri-state community. This organization is comprised of the wives, fiancées and significant others of Jets players, coaches and select football support staff members.
Several of our Atlantic Sports Health program doctors are also New York Jets physicians.